Working at Quickmail
Quickmail AG is the first private mail service provider in Switzerland. We are a young company that grows every year and delivers more mail. Therefore, we are constantly looking for qualified and motivated employees. Whether in delivery, sorting, recording or in the office, already more than 3,000 colleagues ensure free choice in the Swiss mail market with their daily commitment.
Apply now as a delivery agent at Quickmail!
We accept applications for anywhere in Switzerland at any time and will contact you as soon as a delivery area becomes available near your place of residence.
Please note that we can only accept applications via our application form. Applications by mail or e-mail cannot not be considered.
If you have any questions, please do not hesitate to contact us: jobs@quickmail-ag.ch.
We are looking for you!
Working as a delivery agent at Quickmail
Are you a homemaker, do you work part-time or in shifts, or are you retired and looking for an additional income? Then you should apply for a job with us. The job as a Quickmail delivery agent is perfectly compatible with many life situations!

What you will do
You deliver addressed and unaddressed mail in your area of residence once a week during the day on Thursday and/or Friday.

The consignments are delivered to your home on Wednesday. Once you are done with the delivery, you report to the Quickmail head office which consignments you have delivered.
Requirements
We require a high level of reliability, good skills of the official language that is spoken in your area (German, French or Italian), physical fitness and a solid level of motivation.

If you are already working for another delivery organisation, this will not be an obstacle to employment.
Workload
The monthly workload is between 10 and 40 %, depending on the size of your delivery area and the number of consignments to be delivered. As far as it is organisationally possible, we will adapt the size of the delivery area to your desired workload.
Mobility & Equipment
Depending on the delivery area, you will be on foot, by bicycle, moped/scooter or car.

Depending on your needs, we will equip you with shoulder bags, newspaper scooters or trailers.
Compensation
Remuneration is at least CHF 21.67 per hour. Vehicle expenses will be reimbursed additionally.

The hourly wage includes a holiday allowance. This amounts to 8.33 % for 4 weeks' holiday and 10.64 % for 5 weeks' holiday.
Employees up to the age of 20 and over the age of 50 are entitled to 5 weeks' holiday.

Advantages & Perspectives
You can flexibly arrange your working hours within the designated time periods.
You start work directly from your home and thus do not lose time travelling to work.
You are engaged in a work activity that takes place in the fresh air.
Quickmail offers you the opportunity to increase your workload, e.g. by working as a substitute for other delivery staff.
Part-time job as a delivery agent at Quickmail AG
Sebastian, born in 1982, is a cook and works for Quickmail as a delivery agent:
«The job at Quickmail is the ideal complement to my main job. After the delivery in the morning, I'm always ready for the day.»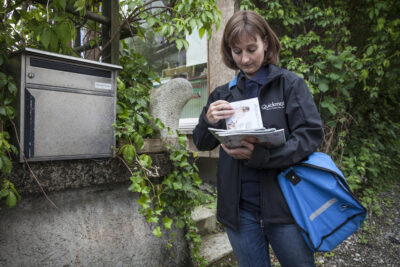 Martina, born in 1977, is a homemaker, mother and works for Quickmail as a delivery agent:
«Besides the work around the house and childcare, delivering in the fresh air is a good balance and also gives some pocket money.»
Nicole, born 1981, works for Quickmail as a delivery district manager:
«In 2013, I started at Quickmail as a delivery agent - coincidentally, I was the 1000th delivery agent. A year later, I had the opportunity to take over responsibility for 150 delivery staff as a delivery district manager. It's a great opportunity that not every company can give you.»
Cinthia, born 1992, works for Quickmail as Head of Quality and Data Management:
«Working at Quickmail is exciting and involves a variety of tasks. We are a great team and tackle all daily challenges together.»